Gun section #1

John G. Alonzo

Lucas Nobbes

Thomas M Atela

Ronald Badtke

James Talo

Gene Taylor *

Ronald Summers *

Gun section #2

Richard Bowen

William Diamond

----- Ellis

Carl Reed

Ronald Tolles

Bruce Barlow

Walter Johnson

----- Agee

Roger Wells

Daniel Moleti

Gun section #3

Joao Pinto

Ken Brooks

----- Rabe

Mike Ellis

----- Farris

Al Seaver

----- Piner *

Harlod Toomer *

Gun section #4

Jerry Conner

Dennis Flagler

Alain Fuque

George Spencer

Michael Bender

James Smith

Cilfford Stansbery *

Jackie Sanders *

Gun section #5

James Volk

Eugene F Stephenson

Carl Higgins

Frederick Nessler

Robert Heinbach

----- Boulerice *

----- Turner *

Gun section #6

James Smith

Jimmy L. Frazier

Eugene Hardy

Terry Fisher

Paul Berheine

Florian Hintz

Freddie Baudry

Tom Polo *

Battery Headquaters

Larry Banks

Charles Jackson

James Shantz

Doug Kahn

Ronald Monte

Joseph Morici

Lt. Don Sylvester

Kenneth D Ayres B.C.

Fire Base

Headquarters

Chief of Smoke Joseph Fridley

Robert Trollinger

First Sgt. Russel Peters

Ammo Section

Robert Munro

Fire Direction Center

John Meyer

Howard R Skidmore

John Horton

Donnie Woods

Bartin Seiman

Issaic Nelson

Stephen H Crabtree

----- Acey

Bob Mejeur

John Whitney

Don Scott

Dean Foster

Michael Ready

Forward Observers

Frank Lavallee WIA Feb. 1968

Norman Fine KIA Jan. 1968

Mike Pfetsch

John Sartain

Dan Marich

George Holdegraver

John Sprague

Michael Wright

Timothy Pesta

John Distefano

Lanny Dibiasi

Doug Richmond

Motor Pool

William Cunningham

Greg Bushardt

-----Ford

Terry Voioil

----- Hall

Como Section

Thomas McKinley

Head Cook

Angelo Torzelli

Supply

Ralph Devarti

Ronald Monte
The following photos were furnished by George Holdegraver.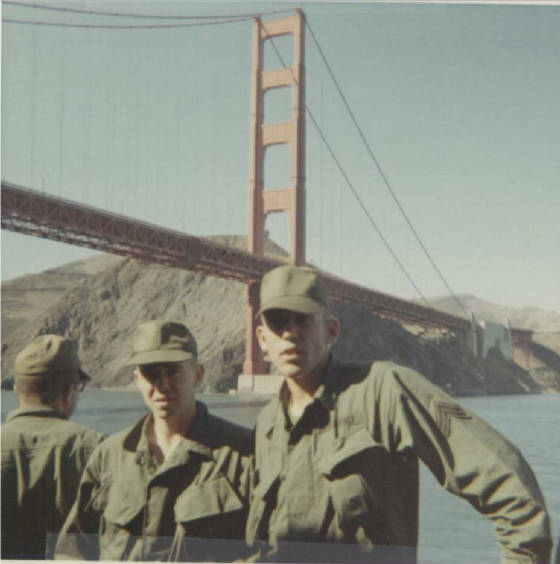 George Holdegraver on the right, Larry Banks in the center the other man is unknown. These boys are getting ready to go under the Golden Gate Bridge heading West.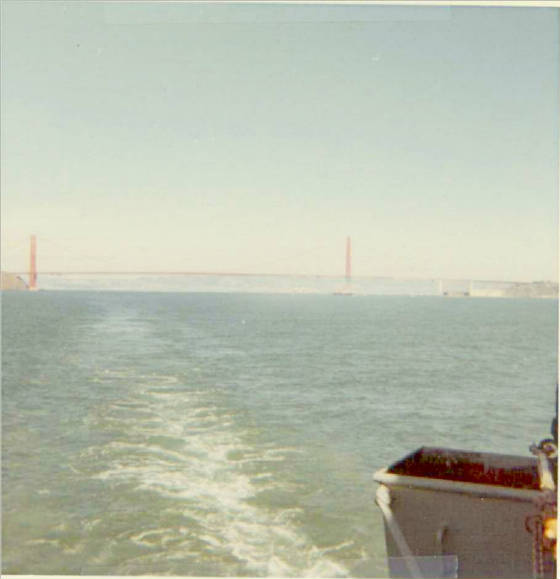 The last look at land for the next 19 days.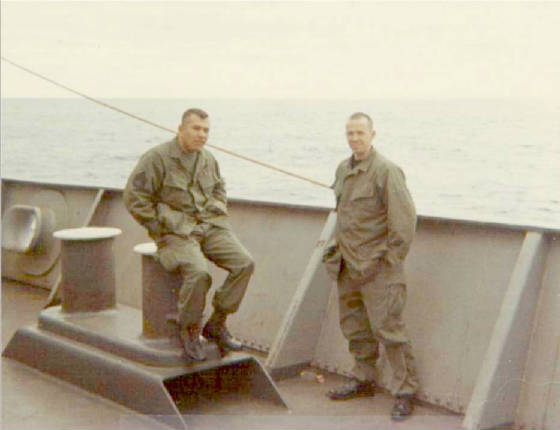 Sgt. Rayes and Larry Banks.
Unknown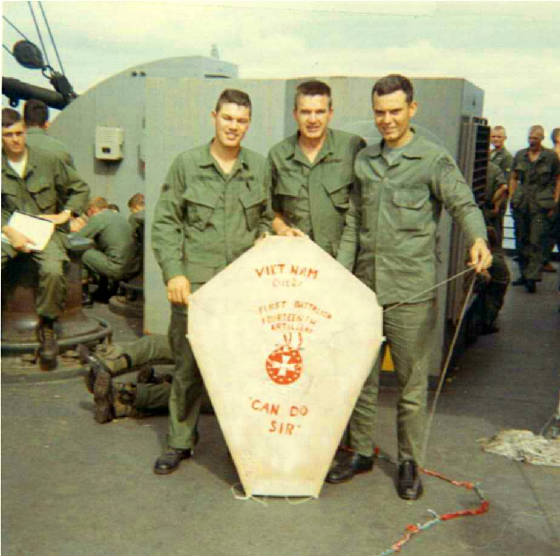 The only person I know in this picture is Dean Foster and he is the one on the left holding the kite.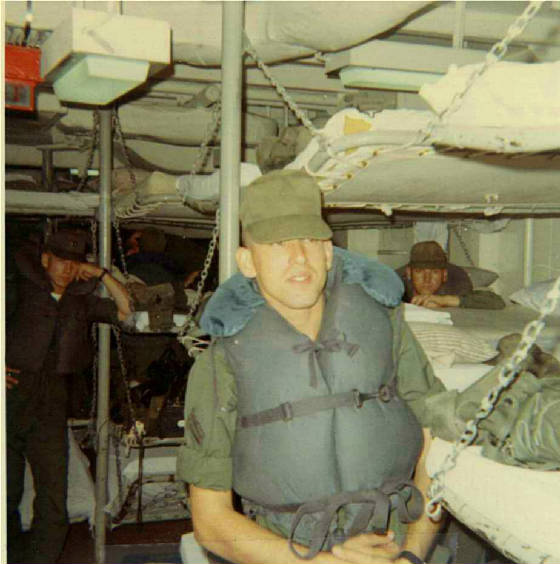 Man on the left unknown, George Holdegraver in the center and Jackie Sanders on the bunk on the right.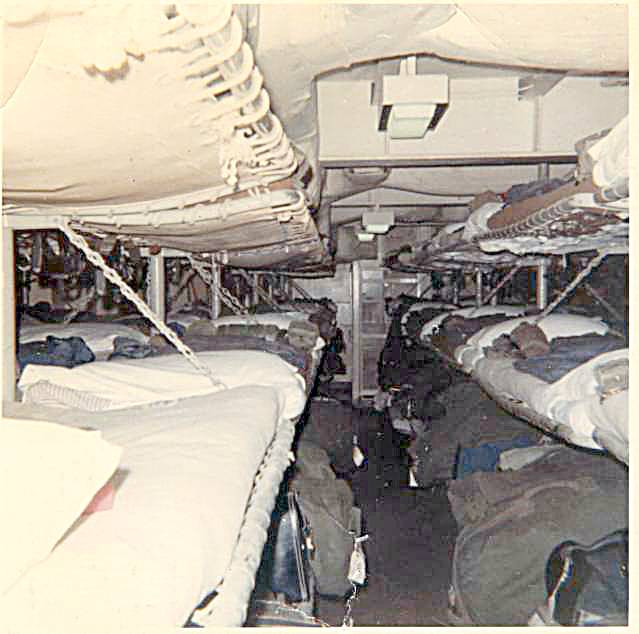 This is the sleeping quarters on the Navy aboard the USS Gordon. Photo furnished by Fred Nessler.
John Horton on the left, Bill Diamond, and Fred Nessler. Photo furnished by Fred Nessler.
The picture says it all. Furnished by Fred Nessler.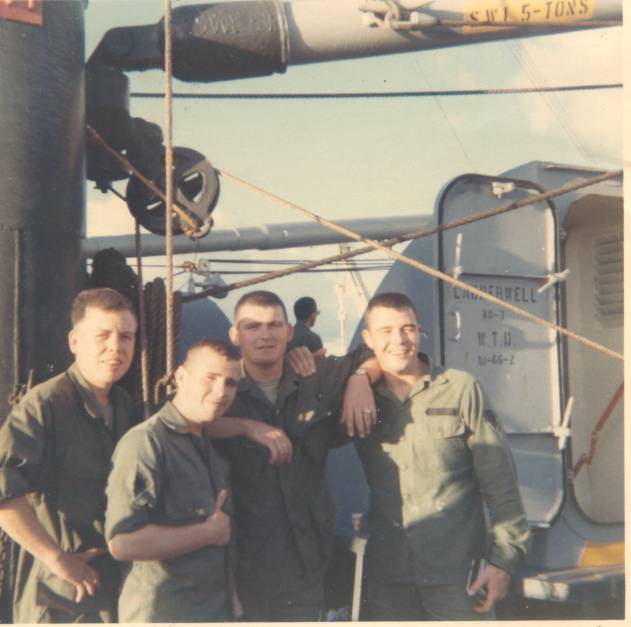 Left to right Robert Munro, unknown, Bill Diamond center back, and John Horton. Photo furnished by Fred Nessler.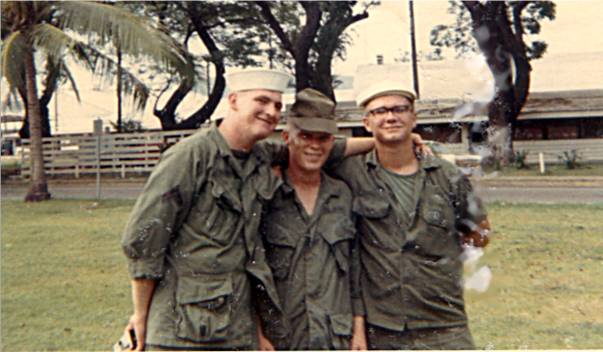 Bill Diamond on the left and the other two men are unknown. Photo furnished by Fred Nessler.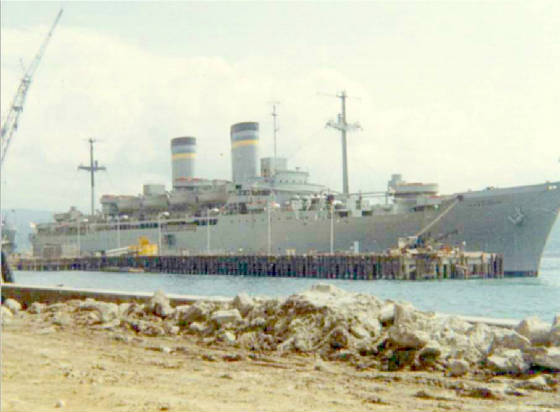 The USS Gordon docked at Subic Bay, Philippines.