"CHARLIE DAWGS"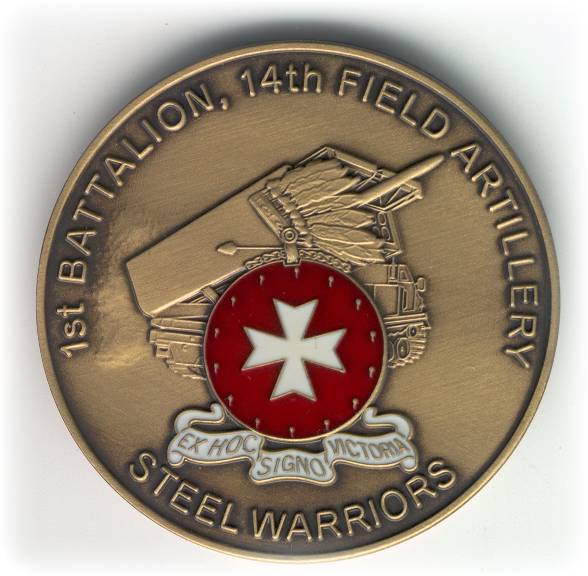 This is the Commander's Coin Of Excellence
This is what you would see if you were to go to the NEW Regimental Room for the 14th Artillery Regiment. It was dedicated on April 22, 2005 and the Veterans of Charlie Battery were honored guest for this occasion. All of the colors and guidons for the Regiment are on display in this room. Take the walk through these doors and see for yourself.
The picture of the M102 Howitzer on the right was what Charlie Battery used in 1969 and until they left Vietnam.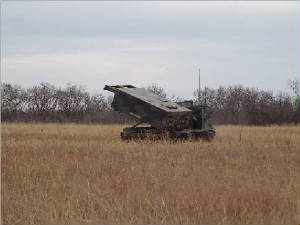 This is what Charlie Battery of 2005 looks like. This piece of eguipment is called Multipule Launch Rocket System (MLRS). It carries 12 8 inch rockets on board.
All of the photos below, click on them to make them larger.
The following pictures are of Charlie Battery 1/14th Artillery of today. I must say that I have never been treated better by any troops as I was by these fine young fighting men of this battery. When you asked a question and they told you the answer they would finish up with yes sir. I told one young man that I was never a sir, I was a section chief and was an E -5 when I was in the Army, his reply was yes sir. Needles to say the respect that we were shown by these young men and everyone else on Fort Sill was outstanding, you might say we got our Welcome Home.

These young Warriors are todays fighting men of Charlie Battery 1/14th. I am sure CPT Givens is very proud of each and everyone of the men in his command. We Charlie Battery Veterans are impressed and proud of them as well. Stand tall men because you are looking Good!!!